Premium gravure LPmax printing ink is known for delivering the highest quality printing results. With a reputation for excellence in the printing industry, this ink offers top-notch color consistency, sharpness, and durability that meets the demanding needs of professional print projects.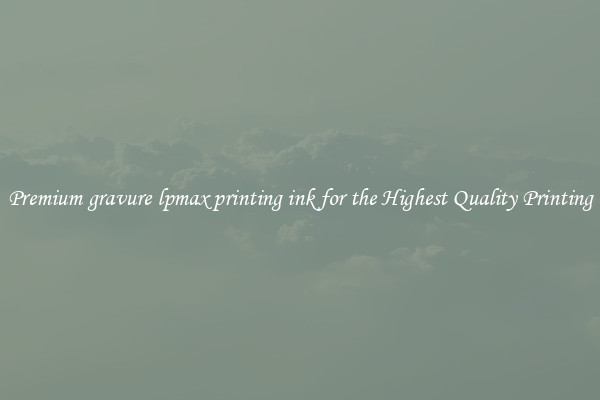 Gravure printing is a widely used technique for high-volume commercial printing, especially for packaging materials such as labels, cartons, and flexible packaging. It is a process that involves engraving the desired image onto a cylinder, which is then coated with ink. As the cylinder rotates, the ink is transferred onto the substrate, resulting in a crisp and vibrant print.
In the realm of gravure printing, LPmax ink stands out as the go-to choice for achieving the highest quality results. This ink is specially formulated to provide exceptional color vibrancy and consistency throughout the printing process. The formulation of LPmax ink involves a careful combination of high-quality pigments, solvents, and binders that work harmoniously to deliver outstanding print output.
One of the key advantages of premium gravure LPmax ink is its ability to produce sharp and detailed images. The ink adheres to the substrate exceptionally well, resulting in fine lines and intricate details appearing clear and defined. Whether it is text, graphics, or high-resolution images, the superior print resolution achieved by LPmax ink ensures that every element of the design is accurately reproduced.
Another crucial aspect of premium gravure LPmax ink is its outstanding color consistency. From the initial print to the last, this ink maintains the desired color accuracy throughout the print run. This is crucial for branding purposes, as it ensures that the colors of logos and other branding elements remain consistent across multiple packaging units. With LPmax ink, brand owners can have confidence in the quality and consistency of their printed products.
Durability is also a noteworthy feature of premium gravure LPmax ink. The ink dries quickly and forms a strong bond with the substrate, resulting in excellent resistance against scratching, rubbing, and fading. This durability is particularly important in packaging applications where the printed materials may be subjected to rough handling or environmental factors.
In conclusion, premium gravure LPmax printing ink is the ideal choice for achieving the highest quality print results. Its attention to detail, color consistency, and durability make it a favorite among professionals in the printing industry. Whether it is for packaging materials or any other high-volume print project, LPmax ink delivers exceptional results that meet and exceed the expectations of both print service providers and brand owners alike.